Bottle of Hops Brewing is a small home brewery driven by one man (me), two hands and a lot of passion. It all started in 2016 when a friend who had brewed beer for several years asked if I wanted to try brewing my own beer. He borrowed me his biab equipment and I found a recipe in the book "Brew Your Own Beer" by Greg Hughes.
The first beer brewed with tremendous hand was a single-hop East Kent Golding called "Clark Kent" partly because of the hops selection, but also because I was very proud to have brewed a drinkable beer all by myself.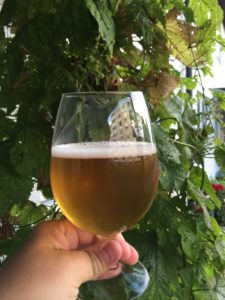 The idea behind why I wanted to learn the noble art of brewing was not to make cheap beer, but to learn the process and the craftsmanship of a good quality beer. Bottleofhops.se is my way of documenting my trip along with malt, hops, yeast, and water. The documentation contains a small blog, beer presentation, recipe, small projects, and pictures.
Have you had the chance to try some of my beers? If so, I would be very happy if you log into Untappd and rate it